Diva Q Biscotti
*1 1/2 c whole almonds toasted
5 eggs
1 egg yolk
2 1/2 c sugar
**1 tsp almond extract
4 cups flour
1 tsp baking powder
1/2 tsp cinnamon
1/4 tsp fresh nutmeg (optional)
1/4 tsp salt
1 egg with 2 tbsp water for wash
Preheat oven to 350
Whisk eggs egg yolk and sugar together plus vanilla until sugar dissolves.
Stir together dry ingredients.
Add to egg mix stir in almonds.
Form into log shapes (whatever your preferred width however do not exceed 3/4 inch in height) on parchment paper or silpat sheets: HINT: get your hands wet to form the logs. This batter is VERY sticky.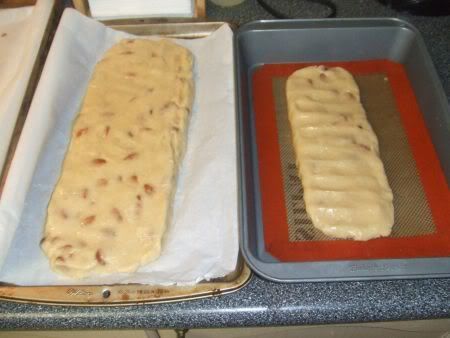 Brush the tops of the biscotti dough with egg wash. Bake for approx 25 minutes or until golden brown and slightly firm to the touch.
Allow to cool for 15 minutes.
Reduce oven temp to 325
With a serrated knife cut slices on the diagonal approx 1/2 inch thick. Bake cut side down for 10 minutes then flip to opposite cut side and bake for another 10 minutes until both sides are golden brown.
They may feel somewhat soft when they come out but they will harden. This store for at least 1 - 2 months in a sealed airtight container. They also freeze very well.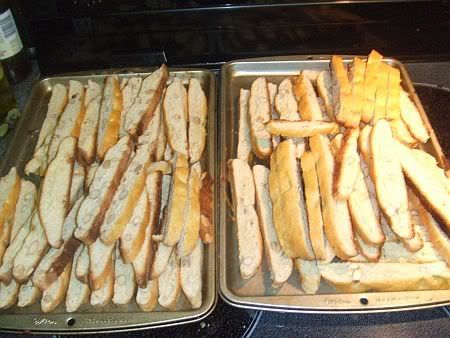 Variations.
I like making different ones.
You can substitute the almonds for:
Chocolate chips
Raisins
Dried Cranberry and Orange
Lemon rind
Poppy seed
(I could go on but I am sure you get the point)
I also use different extracts lemon, orange. I did also try peppermint once. IT wasn't my tastes but to each his own.
Also you can jazz them up by drizzling chocolate or caramel on them. Or even just dunking one end in chocolate then rolling in crushed peanuts or pistachios.
This is a very versatile recipe. Perfect to package up and give as a Christmas gift.