Made this today, and man was it good!!!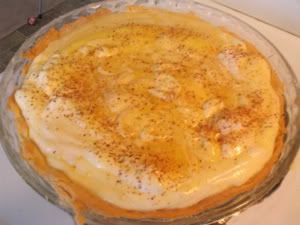 Had a small issue with the crust, but it was homemade and delicious anyway.
INGREDIENTS
1 pkg Jell-O Vanilla Pudding and Pie Filling mix, 6-serving size (not instant)
1/4 tsp ground nutmeg
2 C Borden EggNog (dairy fresh, not canned)
1 1/4 C Milk
3 T light rum (1tsp rum flavoring); optional; or Kahlua
2 C whipping cream (1 pint); whipped
1 9" baked, deep dish pie crust
additional ground nutmeg
DIRECTIONS
In medium saucepan, over medium heat, cook pudding mix using milk and BORDEN® EggNog
according to directions on package until thick and bubbly; mix well. Remove from heat.
Stir in nutmeg. Stir in rum (optional). Cool or chill thoroughly.
Beat cream until smooth.
Fold in whipped cream. Spoon into prepared crust. Garnish with additional nutmeg.
Chill 4 hours or until set.
Store leftovers covered in refrigerator.
Notes: Microwave: In 2-quart glass measure with handle, combine pudding mix,
nutmeg and BORDEN® EggNog; mix well. Cook on HIGH (100% power) 6 to 8 minutes
or until thickened and bubbly, stirring every 1-1/2 minutes. Proceed as above.
recipe courtesy of Rick Salmon, BBQForum