I finally tried a HH pork butt and the results were great! As good PP as any I've made. The butt was ~8lbs, nicely trimmed, still a nice fat cap on it.
Put it on at 10:15am, wet rub brushed on. Dry rub + a little cider vinegar and worcestershire, 2/3 ring unlit lump, 1/3 chimney lit + 4 chunks apple wood:
By 12:15pm the WSM was up to 350ºF (dry pan, clay saucer) and pretty much stayed there for the rest of the cook.
At 1:30pm (3.25 hours) it reached 165ºF internal:
I basted on another coat of wet rub and continued cooking: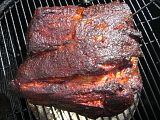 Just shy of 5 hours it reached 190ºF internal. It still felt a little too firm but I double foiled and in the cooler thinking there would be lots of residual heat to finish tenderizing.
2 hours rest later it was still too firm IMO. So into a 325ºF oven for another hour, then another hour in the cooler. It was then FOTB, amazingly tender and juicy (picture is kind of a wash, wrong color setting
, it had more color than that):
It had great bark, lots of flavor, I really don't see a downside to HH butt from this cook. Not to mention a strong BACON aroma
.
If there was a downside it's too much grease/dripping smoke with an empty water pan using higher heat.
5 hours was pretty amazing. Next time I'll let it get more tender before removing it, so if it's like this one probably 6 or 7 hours. The residual heat didn't do as much work as I thought it might.
I quite like this brush on wet rub business. Would be even better overnight I think, it sticks to vertical surfaces and is less messy than sprinkling and/or mustard slather.
2 thumbs way up from me for HH butt. This one really had me cursing the time spent on overnighters trying to hold it steady at 225ºF, what a waste of good night's sleep.