This 6 month old BBQ will be available for pick up the second week of May. I have previous commitments with this unit and I have to keep it until then.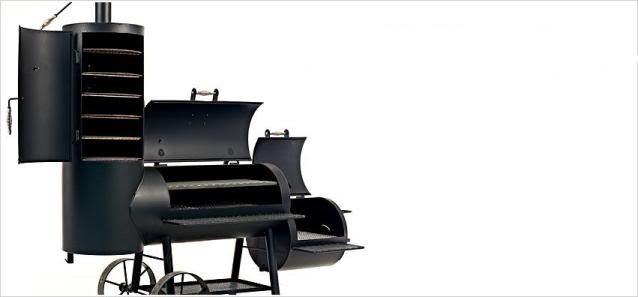 This unit is made out of 1/4" material and it will allow you to slow smoke sausage, cheese, fish & jerky in the vertical chamber, barbecue ribs, pork, brisket & chicken in the horizontal chamber and grill steaks, burgers and hot dogs in the firebox all at the same time!
As mentioned this unit is constructed entirely out of 1/4" material and weighs approximately 900 lbs. It is 20" in diameter and has a 22" long firebox, 42" long horizontal cooking chamber and a 54" tall vertical chamber. Overall it is approximately 83" long, 84" high, 34.5" wide and 40" wide when the horizontal cooking chamber door is in the open position with the counterweight.
This unit comes complete with:
- dual-damper through draft control
- 1/4" convection plate in horizontal chamber for even cooking temperatures
- 3 thermometers mounted on cooking chamber doors
- counterweight on horizontal chamber door for easy opening
- vertical chamber includes 6 cooking chamber racks and a meat/cheese hanger rod
- second removable slide out shelf in the horizontal cooking chamber
- all cooking grates are made of heavy duty expanded metal and are removable from the firebox and both cooking chambers
- all handles are stainless steel coils and "cool to the touch"
- warming tray on top of fire box
- stainless steel drip bucket included as well
A new unit with the options listed above will sell between $2,150 - $2,250 US ($2,580 -$2,700 CN)
plus
freight, taxes, ect. I am looking to sell my seasoned unit ready to go for $1,850 CN. Depending on your location, I may be able to help with delivery as well.
Scott aka Blutck